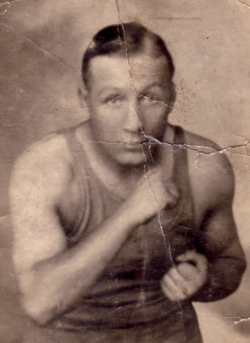 Pat Mills










He was a man the American sportswriters referred to as a "scholar and a gentleman" and from such a group of hardened journalists that was praise indeed! His name was Pat Mills and he was the younger brother of Fred Mills, the boxing bootmaker. Pat led such a varied life that it would be easy to write a book about him, but nevertheless I shall attempt to give you an insight into his interesting and colourful career.

In the streets of Gosport in the year of 1901, tradesmen were whistling the hit-song of the day, "After the Ball". And the ball was certainly over for our beloved Queen Victoria, who died that year. It was the start of the Edwardian era. It was into this period that Pat Mills was born, and it was a good day for the boxing world.
He grew into a pleasant lad with a nice nature that made him many friends and he also developed a liking for sport. During the First World War, he joined the Royal Flying Corps as a boy entrant. Those days were well remembered by Gosport resident Bill Crockford who joined the same outfit as Pat.
They went through their initial training together at Halton. Bill recalled what an easy going chap Pat was, but even in those days he was a champion of the underdog. He had no time for the barrack-room bullies that always abound in the services. Many such types learnt to their cost only too late that they had picked the wrong chap to goad into a fight. Pat may have been only a lightweight, but he was more than a match for many a heavier chap.

Allowed to pursue sports, he developed into a first class sprinter, but it never overcame his love of boxing. He was posted to Uxbridge and it was there that his boxing ability won him the L.S.B.A. and the Allied Service championships. I might add that at this time he was a pretty fair footballer. He was given a trial with Fulham F.C., but boxing won again.

After leaving the R.A.F. he toured the world, boxing in China, Japan and Australia. In Australia, he had fourteen fights and lost only twice. He also won the Australian lightweight title. He won the Championship of the East in the Philippines before going on to America.

Solution of the "Pat Mills" Mystery

Evening News, Portsmouth - report